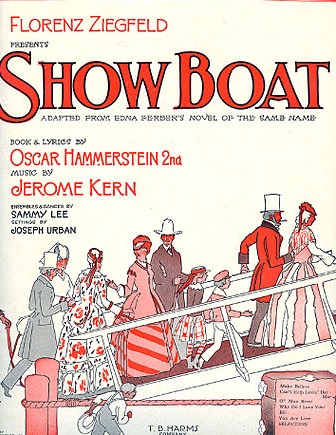 We begin our quest to discuss and review every important musical from Show Boat to today with Show Boat itself, music by Jerome Kern, book and lyrics by Oscar Hammerstein II, produced by Florenz Ziegfeld. This 1927 show is considered by some to be the first modern musical, or at least the single most important step on the way to Oklahoma!, considered by many more to be the first modern musical.
Show Boat was a huge step forward for the American musical, considered by Hammerstein to be a musical play instead of the light musical comedies that were popular on Broadway at the time. In this episode, find out what came before Show Boat and why it was such a revolution for the form, and hear what we think of the faithful 1936 movie adaptation. You can enjoy the podcast without knowing the show, but watching some or all of the movie will certainly help.
Note that racism is discussed, and Jeremy and Hannah, as two white people, are not the most qualified in the world to address the topic, but they try their best in this premiere episode.
If you would like to see the 1936 movie version of Show Boat, finding a copy to rent is nearly impossible, so check this stream out. Trigger warning for blackface in one number midway through:
1936 Movie Part 1: http://www.dailymotion.com/video/x3miour
1936 Movie Part 2: http://www.dailymotion.com/video/x3mj7fq_show-boat-1936-2-2_shortfilms 
To discuss this episode and more with other fans, check out the Broadway Bingers Facebook Discussion Group: https://www.facebook.com/groups/2034413620120525/